When we discuss menus with our clients, we love to be able to show them what the dishes will look like, and who doesn't love a food photoshoot!
The menu was carefully chosen to depict some classic dishes alongside a selection of exciting new additions. As always, our chefs concentrated on delivering dishes with a wonderful depth and complexity of flavour combined with beautifully striking presentation,
…after all they say you first eat with your eyes!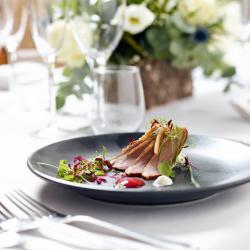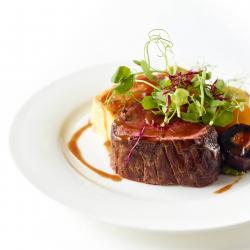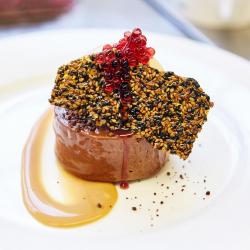 Canapés
Rare Herefordshire Beef with Celeriac Rémoulade on a Truffled Croute 
Tuna Ceviche coated with Sesame Seeds with a Wasabi & Avocado Salsa 
Parsnip Custard Tartlets served with Seared Pigeon & Diced Rhubarb 
Tempura of Prawns served with a Sweet Chilli & Cucumber Dipping Sauce
Crispy Buttermilk Chicken served with a Creole Mayonnaise 
Beetroot Cured Salmon on Pumpernickel Bread with Sour Cream & Chives
Pea, Pecorino & Mint Puree served on a Crostini
Starters
Golden & Candied Beetroot served with Goats' Cheese Snow, Fresh Peas & Pea Shoots 
Smoked Duck served with Blood Orange Gel, Crispy Pork Crackling & Apple & Celeriac Rémoulade 
Main Courses
Seared Sea Bass Fillet, Crushed New Potatoes, Romanesco Broccoli & Bisque Sauce 
Hereford Beef Fillet, Potato Dauphinoise, Heritage Carrot, Pea Puree & a Rich Madeira Jus 
Desserts
Valrhona Chocolate Delice with Cornish Sea Salted Caramel, Malted Milk Ice Cream & Sesame Thins
Trio of Lemon Desserts – Limoncello Posset, Lemon Polenta Cake & Rich Lemon Curd Meringue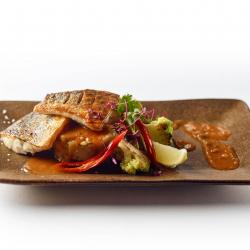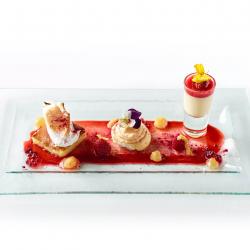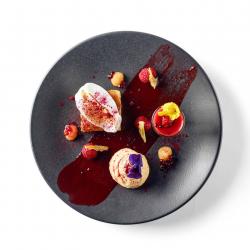 Feeling inspired? Why not get in touch to discuss your own fabulous feast.
Enquire